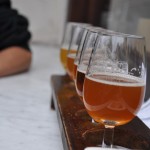 It's over. The semester abroad. The travelling. The vacation. Welcome back normal life. Welcome back Germany. First things I regognized as a fact to be back in Germany was a grumbled man at the baggage claim and a "funny" carnival guy who walked on the train rail when a train was comming… and sure, it was cold (from 30°C down to 5°C).
That was one week ago. Meanwhile I got my stuff ordered in my old room, had time to settle down again, relax, met some friends and family and prepare some stuff for uni. One more week and everything is back to normal, or something like that.
This post will be my last one about Australia. At least I havn't planned anything else in this direction. I really liked the country and the people. There are so many places I hadn't time to look at, which I will do one day or another. On the other I hand: I met so many people and/or got new insights for travelling in other countries. Let's see where I will end up 😉
The following map will give you an overview about the places I have been. You can click on the markers for a little visuell impression and short descriptions, if I thought to mention something in particular.

View Australia Travel Route in a larger map
Stop. Don't delete this blog from your favs, mail subscription or whatever. You will find here posts about other things in the future. Thanks so far for following me while I was in OZ. 🙂
Cheers
Chrissy